Menu
All meals are cooked fresh on our premises daily by our experienced cook Lynda. She has worked for us for 14 years and as a chef for many years prior to this.
We run menus on a four week rota. Our menus are reviewed regularly, ensuring a variety of meals and a good portion of your child's 'five a day'.
All our meat and vegetables are locally sourced and delivered to us fresh. We cater for vegetarians and other special dietary requirements.
Breakfast, lunch & snack teas are included in the nursery fees.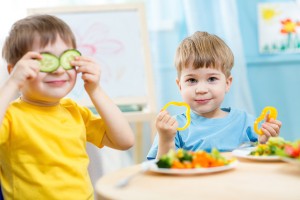 Example menus:
Breakfast – a selection of wholewheat cereals, toast, jams & marmalade
Lunch – Steak & onions with creamed potatoes & mixed garden vegetables
– Homemade quiche, boiled potatoes & salad
– Sweet & sour chicken with vegetable rice & prawn crackers
Vegetarian Alternative – Vegetable lasagne & garlic bread
– Quorn Shepherd's pie & buttery cabbage
– Moroccan vegetable tagine & rice
Dessert – Chocolate Cracknel
– Raisin & cinnamon sponge with ice cream
– Orange segments with orange juice jelly & whipped cream
Snack Tea – Selection of sandwiches & mixed salad
– Greek salad & bread rolls
– Homemade chicken soup & croutons
– Fresh fruit salad & yoghurt offered daily